What are your growth plans? Where would you like to see the company in 3,5, or 10 years?
I was run over by a minivan in 2009, while biking with 4 friends, and was badly injured. When I heard that I'd suffered an "Acquired Brain Injury" because I'd never heard of it, I thought it rare. I was told that it's by no means rare, because it's known by other names. The term most often recognized is "concussion". I decided to make a difference, by starting an organization that makes it more known.
Did you do a lot of networking when you got started? How did you grow your network and make it work for you?
I didn't do enough networking, it was narrow word-of-mouth. What I'd appreciate is help making my brand more widely known.
How many hours do you currently put in as an entrepreneur and how do you feel about that?
I lost everything in the crash. I'm working to build a brand. Quite simply, when I'm not sleeping, I'm thinking of my Not-For-Profit.
How do you get the majority of your leads or clients now? Any tips you can share?
While being visibly-disabled is a challenge, it gives to me an instant-connection to people.
Who is your business idol or inspiration and why?
My idol is the managing partner of StopConcussions.com, Kerry Goulet. He is, quite simply, brilliant at running his Not-For-Profit.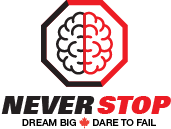 Robert Wein
Email: [email protected]